Murals For Your Business Or Home In New Orleans Louisiana
SaxonLynn Arts Fine art commercial muralists serving New Orleans Louisiana & Dallas Fort Worth Texas Metroplex and beyond.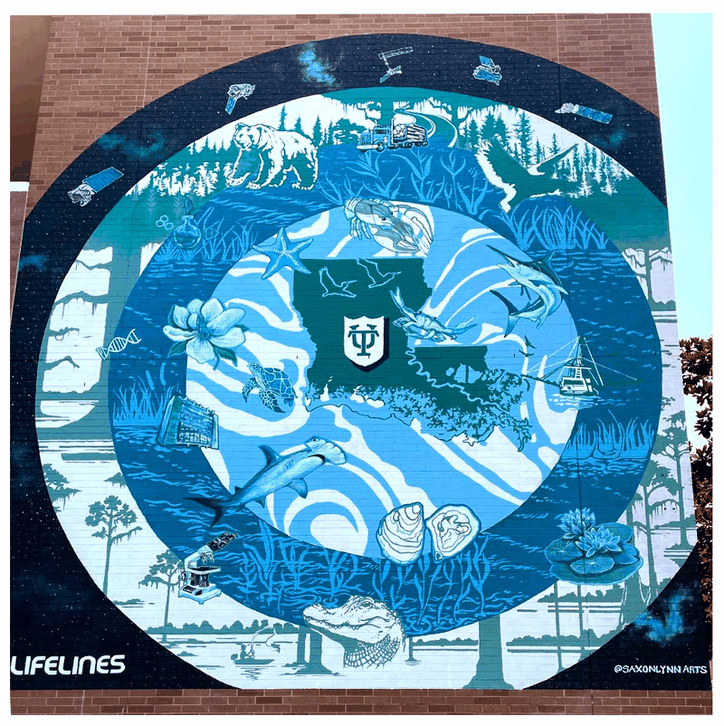 Mural Pricing:
1) - Is your wall Interior/Exterior
2) - In feet measure your wall width and height
Example: (10' Width x 10' Height = 100 Sq. Ft.) 
100 Sq. Ft is charged per square foot. Price is determined by the level of complexity. Average price is
$15.00 - $25.00 per Sq.Ft, less or more dependent upon difficulty.
If you have images let us know. If you want a professional design created we charge for that service separately.
Check out this article of the Vandergriff Building Mural
located in the heart of historic Arlington Texas:
Fine Art Murals New Orleans Louisiana & The Dallas Fort Worth Texas Metroplex - Commercial & Residential
Below is a selection of some of our most popular murals painted over the last few years.
City of Forney Texas Public Art Project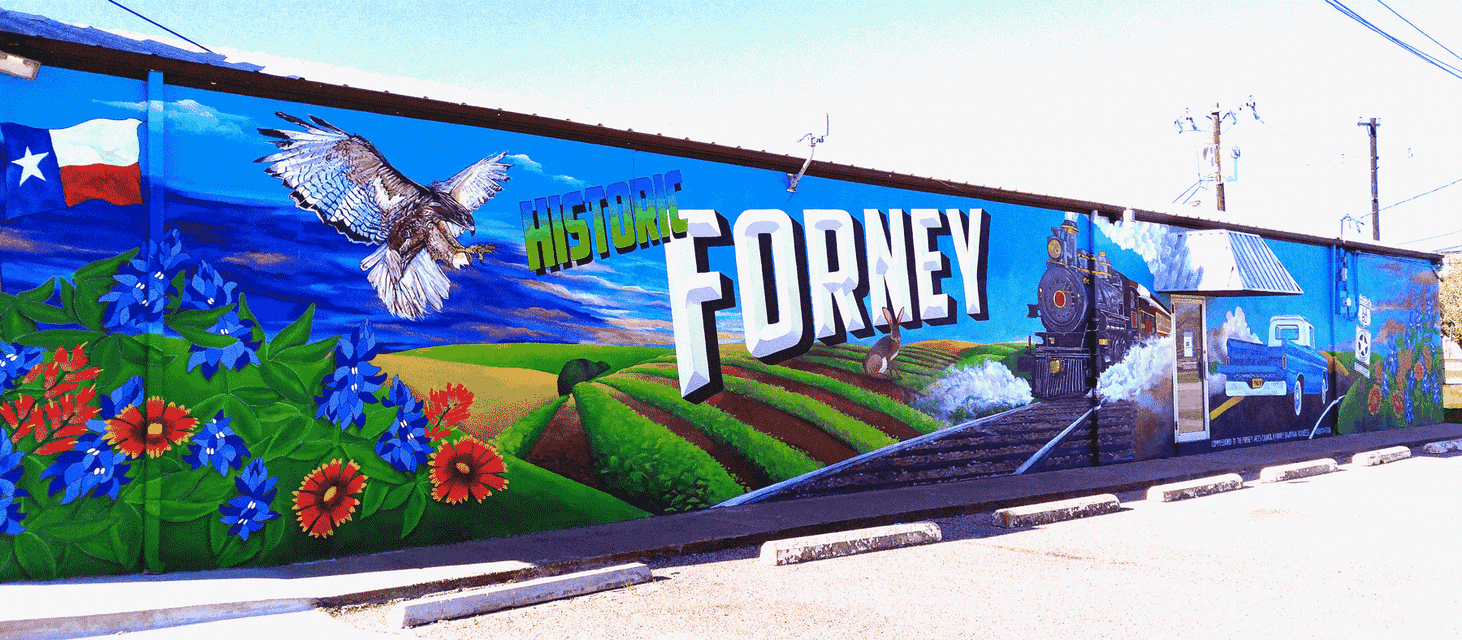 City of Forney commissioned mural. This 90' X 12' wall is heavily stuccoed and was a real test to ensure highly detailed worked was ensured. The Forney project managers and officials wanted to celebrate the rich history of Forney. We were given free reign to research and build an extensive design that captures the heart of Americana' and a bygone era feel that screams welcome to Forney Texas. This mural truly is an interactive mural that welcomes the viewer to be a part of the picture. Highly instagrammable and ready for all your social media pics. SaxonLynn Arts created both the design and implementation of painting everything for this mural to become a reality. 
Giant Claris Glassboards whole factory mural project - Fort Worth Texas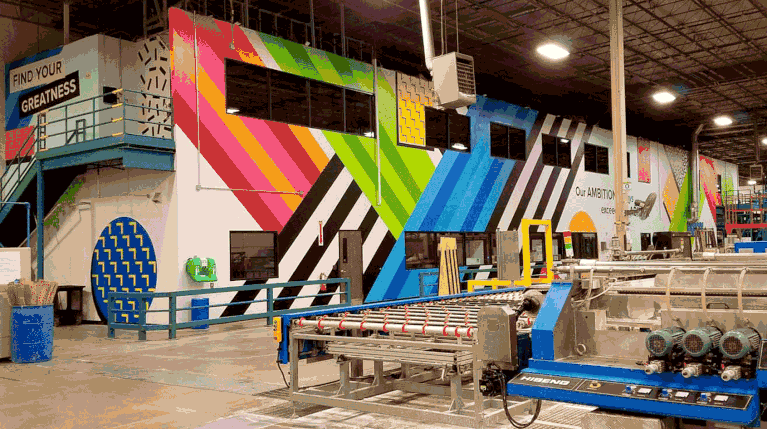 Claris Glassboards Mural Project:
In 2018 we were hired by Claris Glassboards to paint 2 huge murals spanning over 3,000 Sq.Ft. This was an enormous undertaking. The project was needed to be finished within a 3 week time span. Designs were granted to us via Claris design department and we were given a very clear guideline to completion. First area was the main factory floor where the innovative glass is made. The main building spans 160' X 26' the 2nd mural is an exterior docking wall spans 16' X 34'.
Both areas required use of heavy equipment 35' articulating booms and 40 scissor lifts for smooth access.
The murals required both exact positioning of artwork and logos and text. For this element we used a projector to project the art in segments. Where projectors were not available we used tried and tested mathematics, levels, tape, to exact out the complicated striping sections.
Biggest Mural In Fort Worth -TCU Football Stadium Mural Downtown Fort Worth
Fort Worth Texax has one of the largest murals in Texas! 2660 Sq, Ft 133' x 20' That's a whole lot of TCU!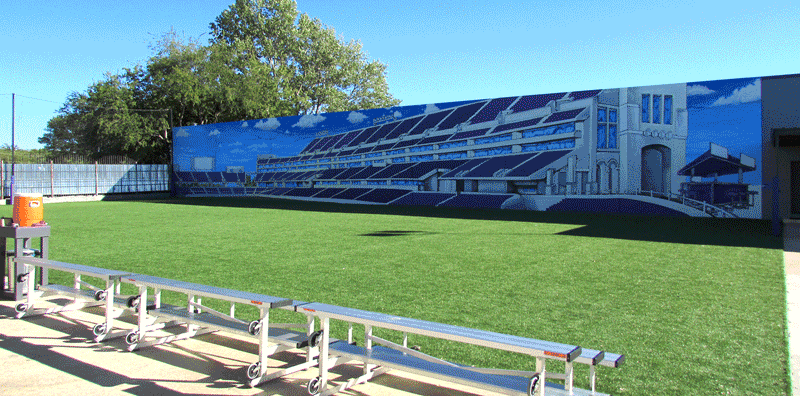 Our huge mural for TCU university inspired stadium. 2660 Sq.Ft (133'x 20')
Fort Worth's largest mural. Biggest hand painted mural in the dfw Dallas area by far! This took 5 weeks to complete. Located at formerly Pop's Garage in Fort Worth Tx now (D-Bat)
only a few blocks from TCU
Check out this massive commercial mural. Also featured in 
http://www.cowtowntridelta.com/pages/making-spirits-bright
We were offered the commission of a life time! This is a mural project like no other. Here in Fort Worth Texas, this must be the biggest mural within a
100 mile radius or even throughout the state of Texas. Measuring at whopping 133' X 20' = 2660 sq. Ft.  
We used 20 gallons of paint and created this mural over a 5 week period. 
All paints were sourced by Sherwin-Williams. High grade exterior paint for longevity and resistance to the Texas sun.
Once primed we began the task of tiling and projecting 20 X 20' portions of the main image. Once projected we were ready to take on
the world's largest blank canvas!
Although slow going for our pace, we finished ahead of schedule. We also completed the painting above standard requirements, as agreed by the contract.
The client requested low/med detail in the square foot pricing, however we couldn't resist going the extra mile considering the opportunity to shine as artists.
You don't paint murals this size very often so when you do, make it count.
Ads were sponsors of the client, which included:
Our Mural was featured in
http://www.cowtowntridelta.com/pages/making-spirits-bright
Chicken Express
Jason's Deli
Gus Bates Insurance
Shaefer Design 
Fast-flow
Encore
Pat Green - Musician
JJ Henry Foundation
Chicken Express
and many more.
Best New Muralist Business To Hit Arlington, Fort Worth, Dallas & beyond!
Murals are a way to show beautiful fine art in your home. You have a professional artist come and paint something completely unique to your needs or taste.
Located in the Dallas, Fort Worth Texas area and serving Oklahoma, Austin, Houston, Galveston and beyond, we are available to drive to your place, be it residence or business.
We paint and specialize in the huge commercial art murals that are perfect in large areas, just like a giant canvas..
Catering to signage, logos and bill board styled ads. Or maybe a painting that sums up your community. 
Your home is also the perfect addition too:
Kids bed brooms, nursery and man caves, dens and kitchen nooks murals are all a way to add something original and personal to you & your family.
School mural commissions like elementary, day-care, middle school and high schools are a way to showcase your school's ability and class. Make that first impression really count.
It doesn't have to be a school emblem, badge, mascot or school logos either, it can be a painted motto, a mantra or a phrase and slogan which your school lives by.
Colleges and Universities are perfect for that school spirit too. Customizing stadiums, gym courts, walls. the library, corridors and locker rooms which
can all do with a color coordinated hand painted mural that lasts for years.
We paint to the highest standard using the very best in acrylic, enamel, exterior and interior 
professional paints.If necessary we also use clear coats for protection against weather.
Consider us for the very finest in mural painting. No lazy, blurred spray can graffiti. Instead you'll receive a brush painting with depth and contrast.
Not to mention miles better than a decal or sticker. 
The only way to have a sign or logo painted is by hand to a professional standard that is crisp lined, sharp and beautiful. A fine art mural. Quality second to none.
SaxonLynn Arts - Pushing Paint Since 2011